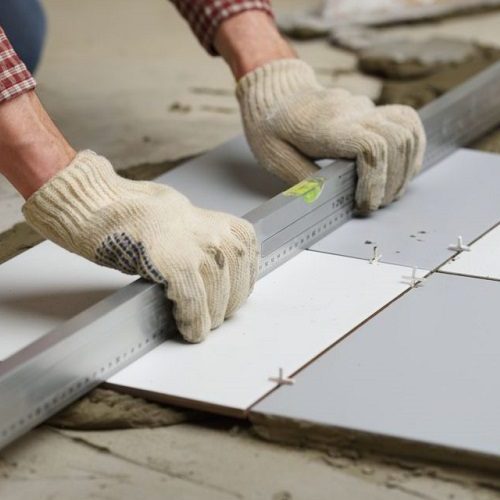 The Best and Latest Tile Installations
Tile is a strong, sturdy material that can be used for flooring as well as for backslpashes, shower and tub walls, and much more. Tile installation, also known as tile settling, is the process of installing tile on a surface. The Wilshire Tile, Inc. team can install tile on almost any surface you desire. Before we explore the steps to tile installation, it is pertinent to understand the materials needed for tile installation. To install tiles on a surface like a backer board and its screws, grout, tile, sealant, and tile spacers. These materials are not difficult to handle once careful attention is paid to the direction of usage. Tile is one longest-lasting flooring materials available. Instead of having a "shapeless" floor, tiles are the best option to add dimension and beauty to your floor. You don't need much to have your tile installed with Wilshire Tile, Inc. We are the best when it comes to tiles. We know, from experience, the befitting tile color and size type for every floor.
The Many Benefits of Tile
Do you have a wet wall and floor? Are there 'maps' or water stains on your bathroom walls that are stinking and disgusting? Tile installation can help stop these problems, leaving your bathroom cleaner, fresher, and more stylish. However, tile installation is not for the novice home handyman. In fact, tile that is installed by an inexperienced person could end up in detachment, cracking, and uneven installation, leaving your space looking worn and unkempt. When you're looking for tile repair that you can count on, call the Wilshire Tile, Inc. professionals at 323-935-1269. We have experience in both commercial and residential tile installation.
Commercial Tile When you need to install tile in your commercial property, Call Wilshire Tile, Inc.!
Residential Tile Want tile for your bathroom, kitchen, or maybe fireplace? Get in touch with us!
Tile Installation Options
When it comes to tile, your options are almost endless. From concrete to rubber and everything in between, there is a tile for almost every use. Our experts can discuss your options with you and help you choose the best tile for your needs.
Deck Tiles
To start with, deck tiles are vented and allow water to flow through and under the floor. Amazingly, these tiles are great as flooring for showers, patios and outdoor decks and are resistant to mold, mildew, and fading. They are typically available in two basic forms; Hard Plastic Tiles and Composite Decking Tiles. In fact, deck tiles are resistant to insect and weather. They are eco-friendly too. 
Concrete
This type of tile is useful for both residential and commercial installations. Surprisingly, the concrete type of tile is very durable. They are typically used in exterior flooring. They could create diverse surface textures and visual effects where they are installed. Meanwhile, concretes are usually flat and hard but most times damaged by heat. They are always hard to thread through but cost-effective.
Epoxy
The texture of epoxy flooring is very cool and slip resistant. It is made with colorant, additives, and resins. This kind of flooring is applied like liquid which is left to harden over time. The typical additive used in epoxy is marble chips. In interior installations like that found in kitchen walls, epoxy can be compiled to cover the base that transport water away from the corners of the kitchen.
Rubber Paver Tiles
For most exterior and outdoor floor installation, rubber paver tiles are the commonest and most preferable. They are special because they can withstand the harsh rays of the sun. The pavers are natural stones and give ideal look to the exterior floor. They are very easy to maintain and clean. Their installations processes are simple and quick. Rubber paver tiles are resistant to mold and mildew growth and provide more comfort underfoot than natural stone.
Playground Tiles
While material like woodchips, rubber mats, and sand have traditionally been used for playground lining, new tile selections make the area safer than ever before. This is a kind of rubber tile, though. The thickness ranges from "1 to 4". The following are playing ground tiles based on their thickness;
1" thick – 1.5' fall height; this is typically used in residential playgrounds.
2.5" thick – 6' fall height, 3.5" thick – 8' fall height, and 4" thick – 10' fall height are useful for commercial pay grounds like the one found in schools.
Professional Tile Installation
Need quality tile installation in Los Angeles, CA? Wilshire Tile, Inc. is the one to call for all of your tile needs for your residential or commercial property. Our team of experts uses only the best installation practices and top products to give you durable flooring, backsplashes, tub surroundings and more. Let's get started today! Reach out to our professional staff at 323-935-1269 and discuss your tile installation project!