Exceptional Interior Flooring Installation Service
Interior tile flooring is the most common nowadays. Apart from the fact that they are durable, they give beauty to the interior of a building. Actually, there are different tiles used at different points of the house. Factors such as the SCOF and PEI rating are essentially considered in the choice of interior tile flooring. Wilshire Tile, Inc. has years of experience in the tile industry and set out to every job to bring you, the client, quality installation that meets your satisfaction. Let's get started. Call us today at 323-935-1269 for interior flooring in Los Angeles, CA.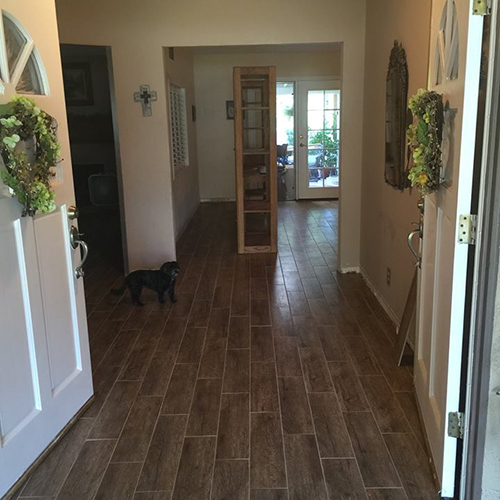 Interior Flooring Materials
The following are samples that could be used for interior flooring.
Stain-Resistant Porcelain
This type of tile is particularly used in the interior flooring of kitchens and they are better than natural stones for this portions of the house. They are with a kind of neutral look that enhance the beauty of lighting in the room. They are never affected by stains, so places like the kitchen will be good to be tiled with porcelain. Although they are resistant to stain, it is safer to choose among the pale colors.
Vinyl Tile
Vinyl is soft, pliable strong, hard-wearing and low-maintenance. It is useful in the interior flooring of the house either commercial or residential.  This tile material is great for areas like commercial kitchens and is a top choice in businesses everywhere. Vinyl tile is a relatively cost-effective solution and always ensure a safe working environment. Although this kind of tiles is in sheets and tiles, most people love to use the sheets. With vinyl, there are no such connections among the tiles i.e. it has sizes typically for a commercial floor. It is affordable and attractive. Most importantly, vinyl is resistant to extremely high temperatures. The rate of its water resistance is considerably high. Call our experts today at 323-935-1269 to learn more about your commercial vinyl tile options.
Cut-and-Loop Carpet
One could use the combination of cut and loop carpet for interior flooring. They provide varieties of patterns and are very easy to maintain. In these modern days, there is the soft fiber of carpet that could be used at the center of the living room. There are some that are made with rubbers. When you use this type, they are replaceable and cost-effective. There is no need to panic about stains as they could be clean in a single wash. They are subtle and bolder on the floor.
Reclaimed Wood
While this sounds more like traditional interior flooring styles, modern hardwoods are becoming charming and attractive in the interior design of a house. They are affordable yet nice on the interior of a building. Another benefit is that they are very easy to maintain and clean. This is a kind of special interior flooring option but they could withstand any form of moisture fluctuation. If you wish to floor a basement in your house, wood flooring at the interior will be the best. You could buy some chemicals to rub it off some dangerous predators. Though they could be expensive in terms of when they are damaged, tying them is not a bad idea.
The team at Wilshire Tile, Inc. is always available to assist you on your new interior flooring in Los Angeles, CA. Dial 323-935-1269 to speak with our professional staff today.